Canning Kits
Whether you are just getting started or have years of experience in pressure canning and preserving our All American Pressure Canning Kits offer a solution to your home canning equipment needs. You get. This special offer saves time, money and effort over finding, pricing and purchasing these items separately.*
Each kit includes: Your choice of either the All American 10Qt., 15Qt., 21Qt., 25Qt., 30Qt. or 41Qt. Pressure Canner, the Ball Blue Book and a 4 Piece Canning Kit.
Attention: Due to very high demand orders for All American Pressure Canners (910, 915, 921, 925, 930 & 941) will not ship until December.
Orders for All American Pressure Canners will not be charged until the order is ready to ship.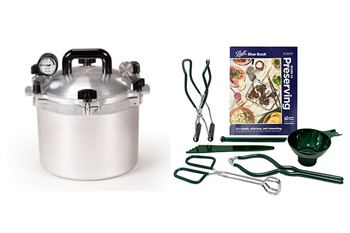 10 Quart Pressure Canning Kit
910
Capacity - 10 1/2 Quarts (Liquid), 7 Pint Jars, 4 Quart Jars
$276.99
Out of Stock
Available for Backorder

Item Number: Opc910ckit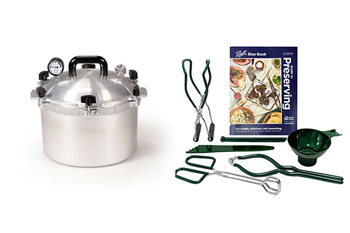 15 Quart Pressure Canning Kit
915
Capacity - 15 1/2 Quarts (Liquid), 10 Pint Jars, 7 Quart Jars
$296.99
Out of Stock
Available for Backorder

Item Number: Opc915ckit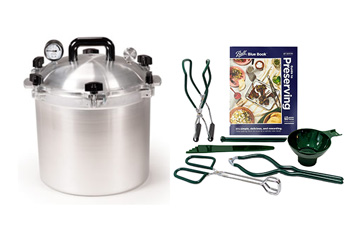 21 Quart Pressure Canning Kit
921
Capacity - 21 1/2 Quarts (Liquid), 19 Pint Jars, 7 Quart Jars
$316.99
Out of Stock
Available for Backorder

Item Number: Opc921ckit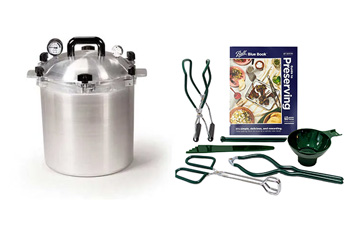 25 Quart Pressure Canning Kit
925
Capacity - 25 Quarts (Liquid), 19 Pint Jars, 7 Quart Jars
$336.99
Out of Stock
Available for Backorder

Item Number: Opc925ckit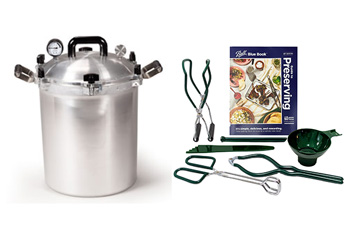 30 Quart Pressure Canning Kit
930
Capacity - 30 Quarts (Liquid), 19 Pint Jars, 14 Quart Jars
$386.99
Out of Stock
Available for Backorder

Item Number: Opc930ckit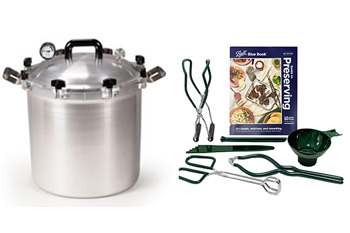 41 Quart Pressure Canning Kit
941
Capacity - 41 1/2 Quarts (Liquid), 32 Pint Jars, 19 Quart Jars
$536.99
Out of Stock
Available for Backorder

Item Number: Opc941ckit