Canning Kits
Comparing Prices? Save Money, No Sales Tax Outside the State of Va.
All orders placed before 4pm Eastern ship same day if shipping and billing address are the same!!
Whether you are just getting started or have years of experience in pressure canning and preserving our All American Pressure Canning Kits offer a solution to your home canning equipment needs. You get. This special offer saves time, money and effort over finding, pricing and purchasing these items separately.*
Each kit includes: Your choice of either the All American 10Qt., 15Qt., 21Qt., 25Qt., 30Qt. or 41Qt. Pressure Canner, the Ball Blue Book and a Canning Kit.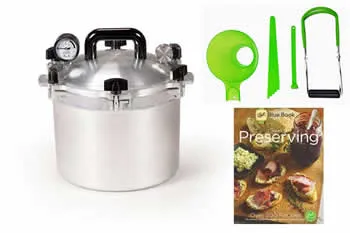 10 Quart Pressure Canning Kit
910
Capacity - 10 1/2 Quarts (Liquid), 7 Pint Jars, 4 Quart Jars
(1 review)
$379.95

Item Number: Opc910ckit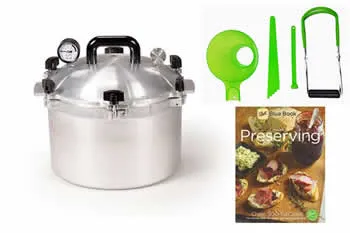 15 Quart Pressure Canning Kit
915
Capacity - 15 1/2 Quarts (Liquid), 10 Pint Jars, 7 Quart Jars
$399.99

Item Number: Opc915ckit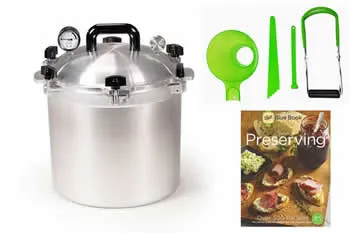 21 Quart Pressure Canning Kit
921
Capacity - 21 1/2 Quarts (Liquid), 19 Pint Jars, 7 Quart Jars
$451.99

Item Number: Opc921ckit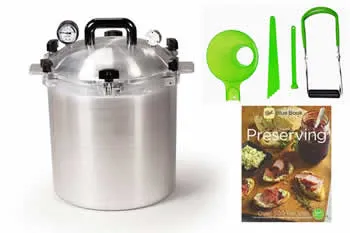 25 Quart Pressure Canning Kit
925
Capacity - 25 Quarts (Liquid), 19 Pint Jars, 7 Quart Jars
$471.99

Item Number: Opc925ckit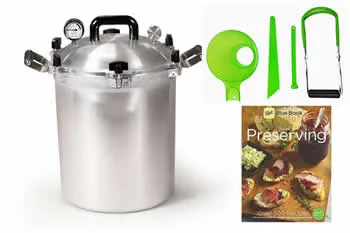 30 Quart Pressure Canning Kit
930
Capacity - 30 Quarts (Liquid), 19 Pint Jars, 14 Quart Jars
$531.99

Item Number: Opc930ckit
41 Quart Pressure Canning Kit
941
Capacity - 41 1/2 Quarts (Liquid), 32 Pint Jars, 19 Quart Jars
$681.99

Item Number: Opc941ckit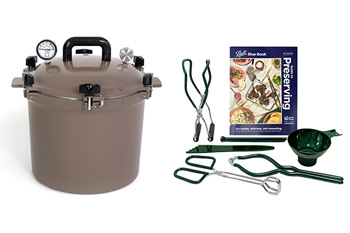 All American Barley 21 Quart Canning Kit
921BR with Kit
Capacity - 21 1/2 Quarts (Liquid), 19 Pint Jars, 7 Quart Jars
$531.95

Item Number: Opc921BRckit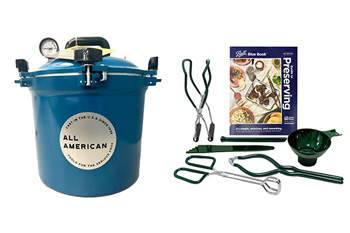 All American Berry Blue 21 Quart Canning Kit
921BL with Kit
Capacity - 21 1/2 Quarts (Liquid), 19 Pint Jars, 7 Quart Jars
$531.95

Item Number: Opc921BLckit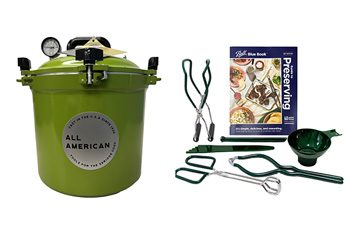 All American Kelp 21 Quart Canning Kit
921GR with Kit
Capacity - 21 1/2 Quarts (Liquid), 19 Pint Jars, 7 Quart Jars
$531.95

Item Number: Opc921GRckit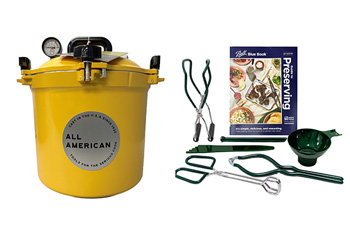 All American Mustard 21 Quart Canning Kit
921YL with Kit
Capacity - 21 1/2 Quarts (Liquid), 19 Pint Jars, 7 Quart Jars
$531.95

Item Number: Opc921YLckit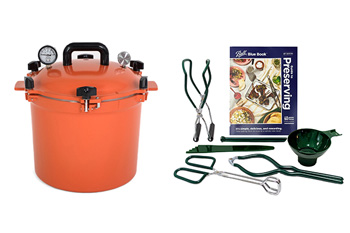 All American Saffron 21 Quart Canning Kit
921OR with Kit
Capacity - 21 1/2 Quarts (Liquid), 19 Pint Jars, 7 Quart Jars
$531.95

Item Number: Opc921ORckit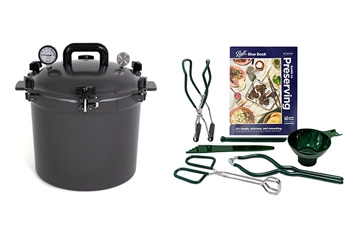 All American Storm 21 Quart Canning Kit
921GY with Kit
Capacity - 21 1/2 Quarts (Liquid), 19 Pint Jars, 7 Quart Jars
$531.95

Item Number: Opc921GYckit