All American Pressure Canner
Comparing Prices? Save Money, No Sales Tax Outside the State of Va.
Free Shipping on all Canners
to contiguous United States
Wisconsin Aluminum Foundry has manufactured All American Pressure Canners since the 1930s. This line of canners has offered the best and safest method for home canning from its creation all the way up to the present. The U.S.D.A. recommends pressure canning as the only way to can meat, fish, poultry, and all vegetables. These pressure canners have the capacity needed not only for canning, but also for preparing large quantities of food and pressure cooking inexpensive meat cuts to juicy tenderness in a short time. Only the All American Pressure Canner features an exclusive, precision machined "Metal-to-Metal" sealing system. Positive action clamping locks align the cover to the base forming a steam tight seal. Because no gasket is involved, the cover is always easily opened and closed. The All American Pressure Canner makes it easy to can fish, meat, vegetables, and fruits and is the only method that the U.S.D.A. recommends for low acid foods. All models feature a readable pressure gauge for accurate pressure control.
Pay No Sales Tax* (outside Virginia)
We also offer All American Canner Parts.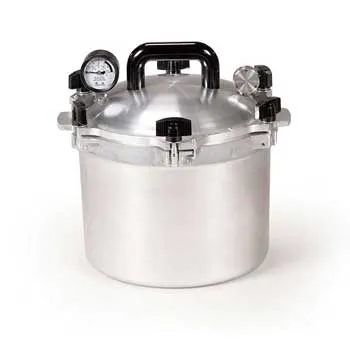 All American 10 Quart Pressure Canner
910
Capacity - 10 1/2 Quarts (Liquid), 7 Pint Jars, 4 Quart Jars
$339.95
Out of Stock
Available for Backorder
ETA: Coming Feb 2023

Item Number: OpcAA910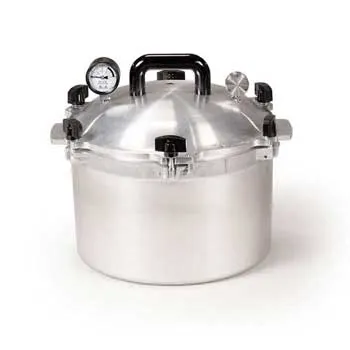 All American 15 Quart Pressure Canner
915
Capacity - 15 1/2 Quarts (Liquid), 10 Pint Jars, 7 Quart Jars
$379.95
Out of Stock
Available for Backorder
ETA: Coming in Feb 2023

Item Number: OpcAA915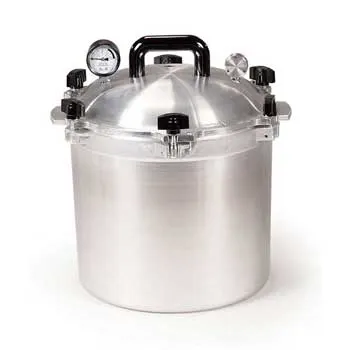 All American 21 Quart Pressure Canner
921
Capacity - 21 1/2 Quarts (Liquid), 19 Pint Jars, 7 Quart Jars
$419.95

Item Number: OpcAA921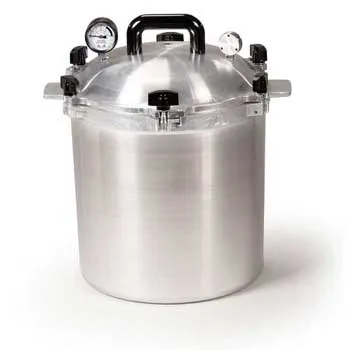 All American 25 Quart Pressure Canner
925
Capacity - 25 Quarts (Liquid), 19 Pint Jars, 7 Quart Jars
$449.95
Out of Stock
Available for Backorder
ETA: Coming Soon-Late Nov/Dec

Item Number: OpcAA925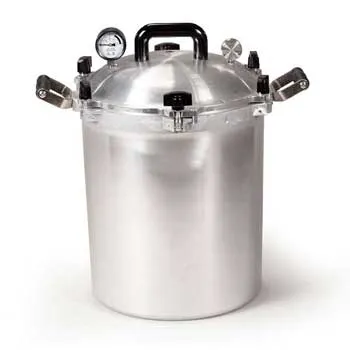 All American 30 Quart Pressure Canner
930
Capacity - 30 Quarts (Liquid), 19 Pint Jars, 14 Quart Jars
$499.95
Out of Stock
Available for Backorder
ETA: Coming March 2023

Item Number: OpcAA930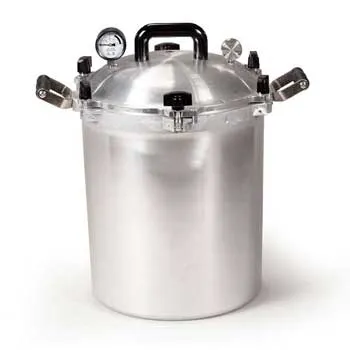 All American 41 Quart Pressure Canner
941
Capacity - 41 1/2 Quarts (Liquid), 32 Pint Jars, 19 Quart Jars
$649.95
Out of Stock
Available for Backorder
ETA: These canners will ship Feb. 2023

Item Number: OpcAA941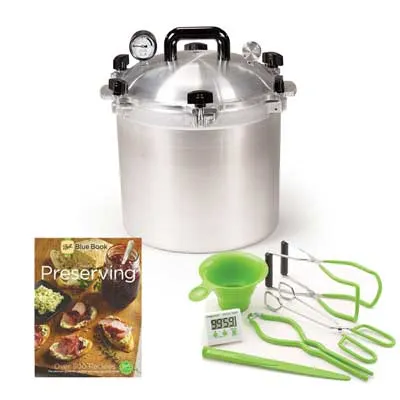 Canning Kits
Available in 6 sizes - 10, 15, 21, 25, 30 & 41 Quart