Electric Benchtop Autoclave Sterilizers
120 Volt Electric Sterilizers
For use in US and Canada
(read more)
- (pictured with optional support base)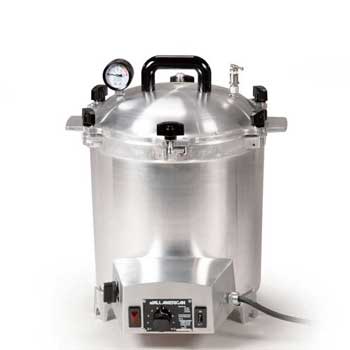 Small Benchtop Autoclave Sterilizer
50X-120V
120 volt - 1650 watt
14.5 Qt Inner Container Capacity
$789.95

Item Number: OAA50X120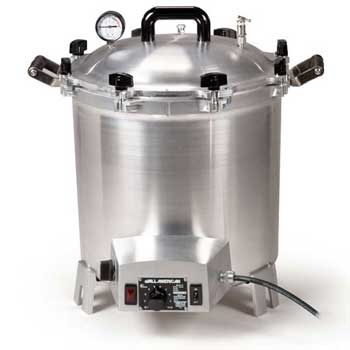 Large Benchtop Autoclave Sterilizer
75X-120V
120 volt - 1650 watt
27.3 Qt Innner Container Capacity
$979.95

Item Number: OAA75X120
240 Volt Electric Sterilizers
For use outside of US and Canada
(read more)
- (pictured with optional support base)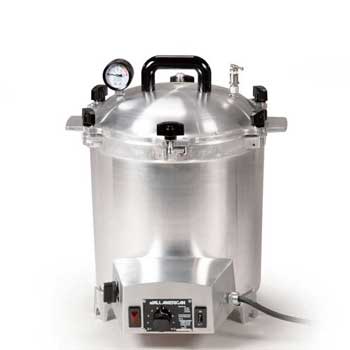 Small 240 volt Autoclave Sterilizer
50X-240V
240 volt - 1650 watt
14.5 Qt Innner Container Capacity
$799.95

Item Number: OAA50X240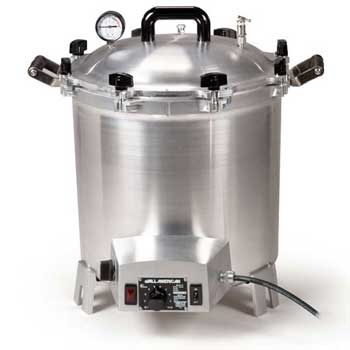 Large 24 volt Autoclave Sterilizer
75X-240V
240 volt - 1650 watt
27.3 Qt Innner Container Capacity
$999.95

Item Number: OAA75X240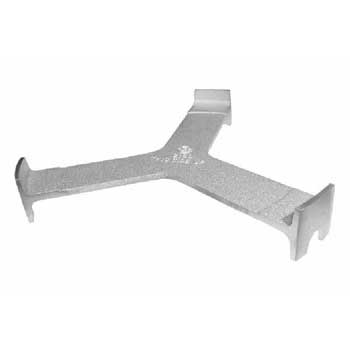 Small Autoclave Sterilizer Support Base
fits 25X & 50X model sterilizers
Elevates unit 1 3/8" above table surface
$67.99

Item Number: OAA2180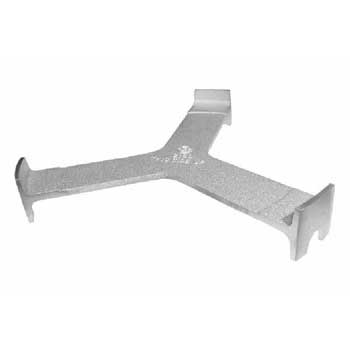 Large Autoclave Sterilizer Support Base
fits 75X model sterilizers
Elevates unit 2 1/4" above table surface
$75.99

Item Number: OAA4180
Heat Resistant Autoclave Glove
Protect your hand when releasing steam
$13.99

Item Number: C1059567
Things to know before you purchase your new All American Sterilizer
Returned sterilizers must be in new unused condition, will be charged a 20% restocking fee and shipping cost is non-refundable.

We cannot ship Electric Sterilizers to Canada due to UL Listing Regulations.

All American Electric Sterilizers are available in both 120V & 240V models, and will operate on either 50Hz or 60Hz. All models include a 3-wire grounded cord and plug for safety.
An optional support base elevates the sterilizer above the table or counter surface to prevent heat damage.
If you are looking for All American Sterilizer Parts Parts click here.
***240V Sterilizers are not meant for use in the USA or Canada***
If you are planning to use in the USA or Canada you should purchase a 120V Sterilizer
Attention Buyers: These items are sterilizers, not canners. They are not suitable for use as canners.
**Sterilizer period begins when the pressure steam gauge needle register in the green sterilization band shown of the face of the gauge and a minimum of 17psi has been reached. The time required before this period for the sterilizer to heat will vary depending on the size of the sterilizer and the temperature of the water used.
Electric Sterilizer/Autoclave Knowledgebase
What is the difference between the 120 Volt and the 240 Volt Sterilizers?
Our electric sterilizers can be purchase in either 120 Volt or 240 Volt models. If you are planning to use your sterilizer within the United States and Canada you should purchase a 120 Volt model because 120 Volt is the standard outlet voltage used. If you are planning to use your sterilizer in some parts of Europe and Africa you may need a 240 Volt model. You should be aware of the voltage you plan to use the sterilizer with because using the incorrect voltage can cause the sterilizer to not work or cause damage. The 120 Volt and 240 Volt sterilizers also use standard electrical plugs for their voltage (refer to picture below).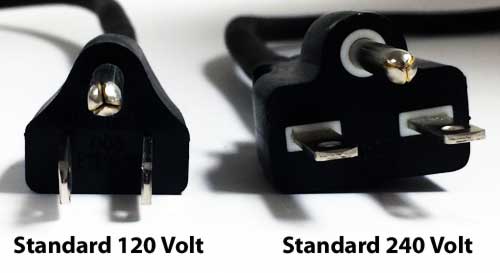 Why would I need a support base for my electric sterilizer?
All American electric sterilizers operate at a very high temperature which can cause damage to non heat resistant surfaces such as a table or countertop. We recommend purchasing an optional support base with your electric sterilizer.