Hand Crank Pea Sheller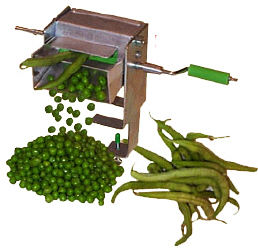 Click image to zoom

$45.99

Item Number: A38035
Mr. Pea Sheller does an excellent job shelling black eye, purple hulls, cream peas, etc., as well as butter beans, when in the fresh ripe green stage. A small, efficient, inexpensive pea and bean sheller for the home.
This Pea Sheller is designed for a long life, it saves hours of tedious work. Produce may be viewed when shelling to avoid getting foreign objects in peas. Very little splattering as peas roll out of trough into your pie pan or any shallow pan.
The Hand Crank Pea Sheller features:
Shells a bushel in about 30 min, may be used with portable hand mixer*
No adjustments to make, long life steel construction
Tough nylon gears & bearings, easy to clean
Measures 4 x 8 x 8"
Please note: Whether cranking by hand or runing this pea sheller motorized the ripeness of the peas or beans is the most important factor in yielding good results. If the peas or beans are not ripe enough to shell with your fingers, no pea sheller will yield the best results. This sheller will not work with small, tender peas. Due to their tenderness the sheller will mash the peas instead of shelling them. Be certain your produce is ripe before using this sheller.

*Equipped with a hand crank and an upper shaft that adapts to your portable hand mixer (not included). We urge you to use your hand mixer as this makes your job effortless! The small serrated roller design allOws maximum torque from fractional horsepower motors such as your hand mixer. Any 100 watt hand mixer does great! When using your mixer, it should be run at medium or high speed for maximum torque. The shaft being driven by the hand crank, or your hand mixer, should always turn in a clockwise direction.