Wood Corn Cutter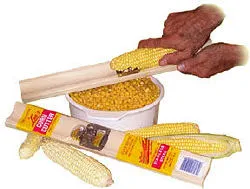 Click image to zoom

$11.99

Item Number: A28163
Lee's "Triple Action" Wood Corn Cutter and Creamer cuts, shreds and scrapes grains of corn off ears 10 times faster at one-fourth the amount of labor! Cuts smoothly, uniformly and evenly without mess or splatter.
To use:
Just lay the cutter over a pan with the long end against a wall or backstop, place ear of corn with small end forward and push against the cutter blade with one quick motion.
For cream style corn just lower the blade to barely clip off the top end of the grain leaving the shredder on. Set the scraper high enough to scrape milk from the cob skin.
For whole kernels raise the blade to desired height for your variety of corn, the proper adjustment will cut grain right off the cob uniformly.
The Wood Corn Cutter features:
Fits all size ears
17 1/2" long and 2 1/8" wide
Groove 1 3/16" wide by 1/4" deep
Parts are adjustable for different style cutting:
Examples: For Uniform Whole Grains: raise blade, remove shredder and lower scraper. For Cream Style Corn: lower blade which clips the ends of grains while the shredder splits them and the scraper removes the juice, leaving the tough husks on the cob.


Do you own this product or have recently purchased it from us? We'd love to hear your thoughts. Product Reviews help customers like yourself learn if the product is right for their needs. Thank you for participating! Please note: If you have questions or concerns about this product please call or email us. We do not use your personal information for anything besides this form.
Click to Add a Review
Submitted by:
sherbear.Anderson
The best way to cut corn, fast. Excellent cutter. Long lasting.