The Complete Book of Small-Batch Preserving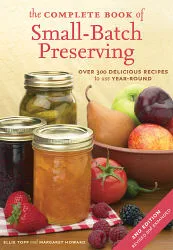 Click image to zoom

$16.99

Item Number: Opc9781
With delectable recipes and professional tips, The Complete Book of Small-Batch Preserving is the ideal guide for anyone who craves home-made preserves but doesn't want to spend all day in the kitchen. The Complete Book of Small-Batch Preserving takes the guesswork out of home preserving. Both beginners and pros can make the most of fresh fruits and vegetables when these are readily available and inexpensive. Because these recipes require a minimum of time and fuss, home cooks will enjoy creating the preserves almost as much as everyone will enjoy tasting them. Included are both traditional and new recipes. Detailed instructions provide the safest and latest processing methods. Some recipes are suitable for microwaves. A brand new chapter features freezer preserving as an alternative to the traditional methods. The more than 300 enticing recipes include:
•Jams, jellies and low-sugar spreads
•Conserves, butters and curds
•Pickles, relishes and chutneys
•Salsas, mustards and marinades
•Flavored oils
•Dessert sauces, syrups and liqueurs.
The The Complete Book of Small-Batch Preserving features:
Second edition, revised and expanded, Softcover, 376 pages - 16 pages of color photographs, over 300 recipes, gift ideas, index
Do you own this product or have recently purchased it from us? We'd love to hear your thoughts. Product Reviews help customers like yourself learn if the product is right for their needs. Thank you for participating! Please note: If you have questions or concerns about this product please call or email us. We do not use your personal information for anything besides this form.
Click to Add a Review
There are no reviews to display