The Complete Book of Pickling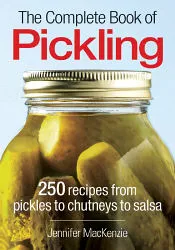 Click image to zoom

$20.99

Item Number: Opc97807
Capturing garden vegetables at their best for year-round enjoyment. Pickling is one of the oldest and most inexpensive methods of preserving foods. Families would gather over mounds of vegetables and huge steaming pots, producing savory and delicious pickles and chutneys. Home pickling is now enjoying a resurgence, as the cost of food and the desire to know where and how foods are prepared increases. These wonderfully inventive recipes feature modern methods and equipment in accordance with the latest food-safety standards. The book also includes classic and unusual international ingredients. Newcomers to the art will find step-by-step techniques and details of specific equipment needs. Enjoy wonderful foods year round with recipes such as:
•Kosher dill pickles
•Aunt Thelma's bread and butter pickles
•Pretty beet and radish pickles
•Gingery cantaloupe pickles
•White balsamic and pepper pickled strawberries
•Clementine pear chutney
•Pineapple lime tomato salsa
•Smoky three-pepper cucumber relish
The The Complete Book of Pickling features:
Softcover, 352 pages - 16 pages of color photos, 250 recipes, pickling gloassary, index, extensive tips and techniques
Do you own this product or have recently purchased it from us? We'd love to hear your thoughts. Product Reviews help customers like yourself learn if the product is right for their needs. Thank you for participating! Please note: If you have questions or concerns about this product please call or email us. We do not use your personal information for anything besides this form.
Click to Add a Review
There are no reviews to display