Ball Complete Book of Home Preserving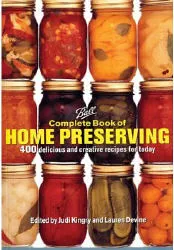 Click image to zoom

$18.99

Item Number: Opc01313
The Ball Complete Book of Home Preserving is filled with a huge variety of over 400 preserving recipes for today's busy food preservers. It features user-friendly recipes that will appeal to both beginners and the experienced, a problem solver section, produce purchase guide, and an extensive glossary that identifies everything from ingredients to equipment and instructions.
Home canning puts the pleasure of eating natural, delicious produce at your fingertips year-round. Preserving food is as modern and practical as the latest food trends, and it's really simple! Easy-to-understand detailed instructions provide all the information you need before you begin a food preserving project. Enjoy the rewards of numerous homemade meals and snacks, created from just one preserving session. Includes recipes for Soft Spreads, Fruits, Salsas, Relishes, Chutneys, Condiments, Pickles, Tomatoes, and more.
Do you own this product or have recently purchased it from us? We'd love to hear your thoughts. Product Reviews help customers like yourself learn if the product is right for their needs. Thank you for participating! Please note: If you have questions or concerns about this product please call or email us. We do not use your personal information for anything besides this form.
Click to Add a Review
There are no reviews to display