Food Strainer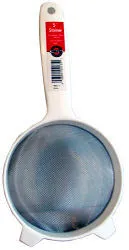 Click image to zoom

$4.99

Item Number: A32958
For rinsing and draining fruits, vegetables, and pastas. Center drip strainer.
The Food Strainer features:
Aluminum mesh bowl
Bowl is 5" in diameter
Dishwasher safe
10 1/4" in length
Do you own this product or have recently purchased it from us? We'd love to hear your thoughts. Product Reviews help customers like yourself learn if the product is right for their needs. Thank you for participating! Please note: If you have questions or concerns about this product please call or email us. We do not use your personal information for anything besides this form.
Click to Add a Review
There are no reviews to display