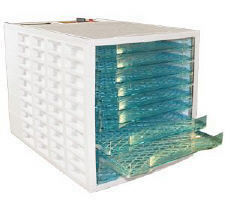 Also available for this item:

Weston Dehydrator Netting Roll
The perfect way to preserve fruits, meats, vegetables, herbs, breads, and flowers! Easily make healthy, delicious and natural snacks like banana chips, fruit roll-ups, yogurt and jerky. Retains natural flavor of foods without additives or preservatives. Makes great take-along snacks for hunting, fishing, camping or road trips.
The Weston VegiKILN 10 Tray Food Dehydrator features:
Easy to use … easy to clean!
Dehydrated foods easily release from trays
Over 6/8/10 square feet of drying space
Ultra-quiet 5 ½" fan
Each drying tray measures 14 ¼" x 10 ¾"
Rear-mounted drying system circulates air from back to front through each tray … tray rotation not necessary
Color-coded thermostat adjusts from 84 to 155 degrees F
Solid ABS thermoplastic construction
Lightweight, counter-top design
Includes instructions and recipe book
Weston Item # 75-0201-W

Weston VegiKILN 10 Tray Food Dehydrator
Item Number: OWS750201W

Price: $159.99


Shipping Weight: 30 lbs