Weston Cabbage Shredder
Please note: We cannot ship any of the items on this page to Alaska, Hawaii, Puerto Rico or Canada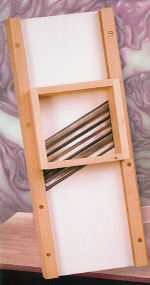 Click image to zoom

$52.99

Out of Stock
Item Number: OWS701401W


The fast & efficient way to make homemade coleslaw! Cabbage Shredders were staples in homes across all ethnicities in order to make sauerkraut. Today the wooden Weston Cabbage Shredder is great for shredding cabbage or vegetables to make homemade coleslaws or sauerkraut. Simply place the cabbage in the wooden frame and slide it up and down while applying pressure to the cabbage.

The Weston Cabbage Shredder features:
3 Sharp, stainless steel blades for shredding
Shreds cabbage or leafy vegetables into 1mm strips
Disassembles for easy clean-up
Measures 15.6 X 5.7 X 3"