Weston #32 Deluxe Manual Tinned Meat Grinder
Please note: We cannot ship any of the items on this page to Alaska, Hawaii, Puerto Rico or Canada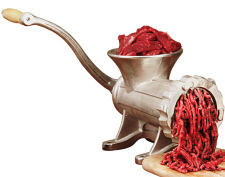 Click image to zoom

8 pc. Deluxe Accessory Kit Included: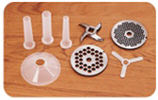 $56.49

Item Number: OWS363201W
The manual meat grinders provide a simple and affordable way to create your own ground meats and sausages, spiced and flavored to your own taste. These grinders also allow you to determine the amount of fat in your ground meats, allowing you to provide a healthier diet for yourself and your family.
Includes 8 piece accessory kit:
4.5mm Grinding Plate for medium grinding, 10mm Grinding Plate for coarse grinding, Grinding Knife, Set of three stuffing funnels: 20mm, 30mm and 40mm with easy attaching universal flange and stuffing star.
The Weston #32 Deluxe Manual Tinned Meat Grinder features:
Grinds 5 lbs of meat per minute
5" x 6" Hopper Opening
Cast iron construction with food safe tin coating
Durable Cranking Handle
Heavy-duty nylon bearing for long life
Bolt Down Mount - secures to your table or countertop
Easy to clean and assemble
One-Year Manufacturer's Warranty
Dimensions: 13" H x 13" W x 10.3" D
Weston Item # 36-3201-W