Weston 3lb Tinned Sausage Stuffer
Please note: We cannot ship any of the items on this page to Alaska, Hawaii, Puerto Rico or Canada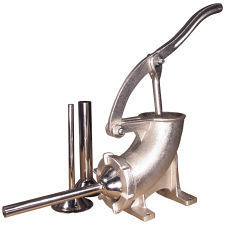 Click image to zoom

$58.99

Item Number: OWS360003W
Prepare your own fresh, delicious sausage and luncheon meats in your own home! Stuffer holds up to 3lbs. of meat. Attachments go on easily and can be changed quickly. All you supply is the meat, seasonings and casings.
The Weston 3lb Tinned Sausage Stuffer features:
Constructed of heavy duty, food safe tin coated carbon steel
This easy-to-use stuffer will provide years of use!
Rubber gasket prevents sausage from leaking around the plunger
Comes with 3 stainless steel stuffing funnels:
10mm = approx. 3/8" (Snack sticks and small sausages)
20mm = approx. 3/4" (Pepperonis and bratwurst sausages)
30mm = approx. 1 1/4" (Summer sausages and luncheon meats)
Easily mounts to counter or tabletop
Disassembles for easy clean up
12 x 14.7 x 6.2"