Weston Vacuum Sealer Bags
Please note: We cannot ship any of the items on this page to Alaska, Hawaii, Puerto Rico or Canada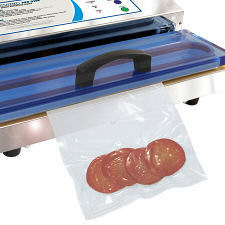 Click image to zoom

8" x 12"
$29.99

Item Number: OWS300101W
11" x 16"
$49.99

Item Number: OWS300102W
15" x 18"
$72.99

Item Number: OWS300105W
6" x 10"
$19.49

Item Number: OWS300106W
Multi-Pack
$19.99

Item Number: OWS300107W
Excellent for freezing meats and fish! These heavy-duty bags seal out freezer burn and extend the life of most foods in the freezer as well as the refrigerator or even dry storage. Weston Brand Commercial Grade Vacuum Bags are reusable and dishwasher safe! Works with Most Vacuum Sealers.
For use with the Weston Pro 2100 & Pro 2300 Vacuum Sealers. May also fit other brands of vacuum sealers.
The Weston Vacuum Sealer Bags features:
Available in four sizes and in a Multi-Pack
Each pack contains 100 bags except Multi-Pack which is 50 bags
Two-ply nylon, 3/5 Mil Vacuum Bag
Reusable and dishwasher safe
Locks out moisture to keep foods fresher three to five times longer than ordinary storage methods
Convenient for use in the microwave or for boiling food
Multi-Pack contains - 25 - 8" x 12", 15 - 11" x 16" & 10 - 8" x 24" Bags