Weston Mahogany Casings
Please note: We cannot ship any of the items on this page to Alaska, Hawaii, Puerto Rico or Canada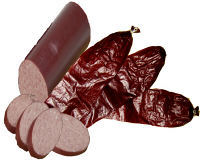 Click image to zoom

1.5" x 12"
$14.49

Item Number: OWS190201W
2.5" x 20"
$22.99

Item Number: OWS190202W
Make delicious homemade sausage easy with the Weston Brand Mahogany Casing. These non-edible casings are used for summer sausages, lunch meats, semi-dried or dried pepperoni. They allow for excellent smoke penetration and at the same time are very strong for tight stuffing and shrinkage. Each casing is string-tied on one end. To close the open end of the sausage after stuffing, you can use hog-rings, twist ties or twine to insure a tight seal.
The Weston Mahogany Casings features:
Available in two sizes: 1.5" x 12" and 2.5" x 20"
Non-Edible, Fibrous
Uniform in Size
No preparation required
Preferred by professional Butchers
1.5" x 12" Casing (Large Pepperonis, Lunch Meats, and Summer Sausage)
20 casings per package, enough casings for 13 Ibs. of sausage
2.5" x 20" Casing (Large Pepperonis, Lunch Meats, and Summer Sausage)
20 casings per package, enough casings for 60 Ibs. of sausage
Each casing holds approx. 3 lbs of meat