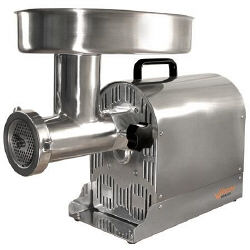 Accessories for this model:
Top of the line meat grinder for commercial or home use. Strong and tough for everyday use with the features and quality construction to last a lifetime. Featuring a powerful 1125 watt, 1.5 HP. permanently lubricated air cooled motor that easily grinds 12-18 lbs. per minute and an extra large oval, stainless steel hopper so you'll be able to tackle large jobs and the toughest cuts of meat. Included with the grinder is a Stomper, 2 Grinding Plates, Stainless Steel Cutting Knife, Stuffing Star, 3 Stuffing Funnels, Funnel Flange, 10mm Snack Stick Funnel and the Cyclone Auger to stuff sausage with incredible efficiency. A great assortment of optional accessories and plates adds versatility to this grinder. to this grinder.
Powerful, permanently lubricated, air-cooled motor (120 volts-60Hz)
Equipped with a circuit breaker for safe use
Extra large oval, stainless steel hopper, #32 Hopper measures 15" x 10" x 3.5"
All metal gear construction for optimal grinding performance & a lifetime of use
On / Off / Reverse functions
Offset head design Patent Pending , with locking knob, allows maximum meat flow
Includes three grinding plates for medium (5mm) and coarse (7mm) grinding
Sausage stuffing - Includes three poly stuffing funnels 20mm, 30mm & 40mm
10mm stainless steel stuffing funnel
(The Cyclone Auger is to be used with the 10mm funnel only)
Sturdy handle for easy moving
Non-slip, rubber feet for great stability
Disassembles for easy clean-up
Three-year limited manufacturers warranty
Dimensions: 16.8 x 24.8 x 15.4"

Weston #32 Stainless Steel Pro-Series Electric Meat Grinder
Item Number: OWS083201W

Price: $750.99
Out of Stock

Shipping Weight: 80 lbs