Weston Burger EXPress With Patty Ejector
Please note: We cannot ship any of the items on this page to Alaska, Hawaii, Puerto Rico or Canada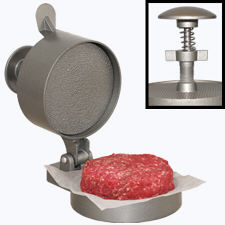 Click image to zoom

$16.99

Item Number: OWS070310W
Compacting Ejector Button! The Weston Burger EXPress With Patty Ejector will allow you to create perfectly sized, pressed, and portioned burgers any time with your own ground meats! Making your burgers yourself also allows you to season them exactly to your taste! Perfectly formed burgers eliminate 'fat' burgers that are undercooked in the center, and 'thin' burgers that fall apart when you try and flip them. Also great for sausage patties, turkey burgers & crab cakes.
The Weston Burger EXPress With Patty Ejector features:
Non-stick Teflon coated surface keeps patties from tearing apart.
Adjustable patty thickness from less than 1/4" (0.6 cm) to 1-1/2" (3.8 cm)
Patty diameter 4-1/2" (11.4 cm)
Heavy-duty aluminum construction
Non-stick coating
Spring plunger button compacts the patty tightly then pops back for quick patty removal
Quick & easy clean-up
Easy to use
Measures 5.5 X 7 X 2"