Electric Pea Sheller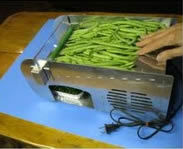 Click image to zoom

$279.99

Out of Stock
Item Number: Orh800M3


A larger more industrious electric pea sheller driven by a 1/15th hp. motor housed under the feed platform (pulley and belt drive not shown but are on far side of box).
Does an excellent job shelling black eye, purple hulls, cream peas, etc., as well as butter beans, when in the fresh ripe green stage.
Designed for long life, saves hours of tedious work. Produce may be viewed when shelling to avoid getting foreign objects in peas.

The Electric Pea Sheller features:
All aluminum construction
LBuilt-in ON/OFF Switch
Safety Shield
Durable
Easy To Clean
Please note: The ripeness of the peas or beans is the most important factor in yielding good results. If the peas or beans are not ripe enough to shell with your fingers, no pea sheller will yield the best results. This sheller will not work with small, tender peas. Due to their tenderness the sheller will mash the peas instead of shelling them. Be certain your produce is ripe before using this sheller.

Please also note: This product may also be delayed in shipping up to two weeks from date of purchase due to high seasonal demand.