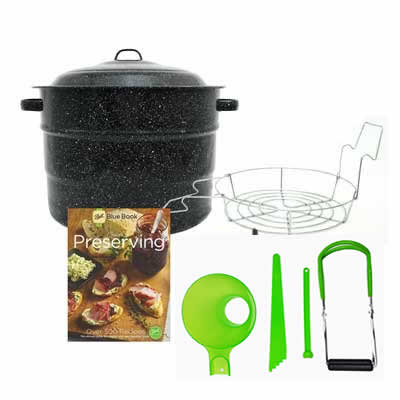 Please note: Not for use on glass, flat top or ceramic cooktops.
These canners are designed for water bath canning. They are not recommended for other uses. Cannot be used with 1/2 gallon jars.
11.5Qt. canner measures - 12.75 x 12.75 x 17" and holds 4 quart jars, 7 pint jars or 7 one-half pint jars
21Qt. canner measures - 15.5 x 15.5 x 15"
and holds 7 quart jars, 9 pint jars or 12 one-half pint jars
33Qt. canner measures - 18.375 x 18.25 x 17.5" and holds 9 quart jars, 14 pint jars or 17 one-half pint jars (33Qt canner does not have handles)
Whether you are just getting started or have years of experience in pressure canning and preserving our Water Bath Canning Kits offer a solution to your home canning equipment needs. You get three essential items at one low price. This special offer saves time, money and effort over finding, pricing and purchasing these items separately.
Each kit includes: Your choice of either the 11.5Qt., 21Qt. or 33Qt. Graniteware Water Bath Canner, the Ball Blue Book and the Canning Kit.
**Graniteware Water Bath Canner - Features Graniteware's speckled porcelain-on-steel that is lightweight, durable, stain, acid, and odor resistant and easy to clean. Includes wire rack with handles. Canner is dishwasher safe, hand wash and dry rack.
Ball Blue Book - Guide to Home Canning, Freezing, & Dehydration. The Ball Blue Book is a comprehensive reference on the subjects of Home Canning, Freezing, & Dehydration. From the very basics to advanced techniques this book is sure to please everyone.
Canning Kit - Four piece pressure canning kit with all the canning equipment you need! Includes Canning Funnel, Bubble Remover, Lid Lifter and Jar Lifter.
*Savings is based on a individual purchase of each item in the canning kit. Purchase price for all the items in the canning kit individually would be $30.25.