Ball Fruit-Fresh Produce Protector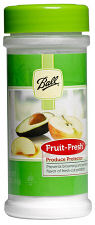 Click image to zoom

$4.99
Out of Stock
Item Number: Opcb24100
Ball Fruit-Fresh Produce Protector prevents browning of fresh-cut produce for up to 8 hours. Just sprinkle on your freshly cut fruit or veggies and protect the color and flavor of your signature creations.
Fruit Fresh can be used in canning, dehydrating, or even freezing produce. Works great in fruit salad recipes and guacamole.
TheBall Fruit-Fresh Produce Protector features:
5 Oz plastic bottle
All natural antioxidants
No artificial flavors or colors
Improved formula with more Vitamin C
New ergonomic bottle fits most spice racks
Multiple uses from large party trays to after-school snacks
Also, great for freezing foods, canning or dehydrating
To use Ball Fruit-Fresh Produce Protector: SPRINKLE half a teaspoon on1 cup of produce or mixe 2 teaspoons with 3 tablespoons of water and toss with 4 cups of produce. Keep produce in an airtight container and refrigerate for even longer storage.
To use for canning: add 1 teaspoon to every 1 cup of liquid in your home canning recipe.
NUTRITION FACTS

Serving Size 1/4 teaspoon (1g)

Servings per Container about 141

Amount per Serving

Calories

5

% Daily Value*

Total Fat 0g

0%

Sodium

0%

Total Carbohydrate1g

0%

Sugars 1g

Protein 0g

Vitamin C

230%
Not a significant source of calories from fat, saturated fat, trans fat, cholesterol, dietary fiber, vitamin A, calcium and iron.
*Percent Daily Value is based on a 2,000 calorie diet.
Ball Fruit-Fresh Produce Protector Ingredients: Dextrose, Ascorbic Acide (Vitamin C), Citric Acid, Silicon Dioxide (anti-caking), Contains no sulfates.
Made in the USA.
Customer Reviews
Click here to add a review or comment
I wasn't paying attention, and used ball fruit-fresh to make plum jam. Of course it didn't set up. Can I add reboil this jam and add pectin to correct the jam. Is it safe to eat jam with a lot of Fruit-Fresh in it?
Jam failure?
I used Fruit Fresh instead of the lemon juice called for in making peach freezer jam. I ended up with peach syrup instead (failure to thicken).

I cannot say for sure it was the Fruit Fresh that caused this, but considering I followed every other part of the recipe with exactness, I am inclined to believe it was.

After doing some research, I have learned that the lemon juice is not only used to keep the color of the fruit bright but that it changes the pH of the fruit which helps with the gelling process.
Ms.
Awesome product! I use Fruit Fresh when I make my potato dumplings to prevent the potatoes from browning. My mom used it for potato dumplings even when I was a kid so it's been used in my family for years. What I also like is that there are no nitrates, nitrites or a few other chemicals which can cause cancer, so I use this product without hesitation.